…and shortly thereafter, mechanically, loaded down by the dreary day and the prospect of a sad tomorrow, I brought to my lips a spoonful of tea into which I had let a piece of madeleine soften. But at the very instant that the mouthful mixed with cake crumbs touched my palate, I shuddered, attentive to the extraordinary thing that was happening in me. A delicious pleasure had invaded me, isolated – no notion of its cause. It immediately rendered all the vicissitudes of life unimportant, life's disasters harmless, its brevity illusory… And suddenly the memory appeared to me…But, when nothing remains of a remote past, after the death of beings, after the destruction of things, only smell and flavor, more frail but more lively, more immaterial, more persistent, more faithful, only they last for long, like ghosts, to be recalled, waiting, hoping (on the ruins of all the rest) to carry without bowing, on their almost impalpable droplet, the immense edifice of memory. "  — M. Proust
Foods are like that with me, they remind me of different places and times. From my childhood, I look fondly on my favorite lunch whether home or a friends … egg salad sandwich and tomato soup!
One of my favorite tomato soups is from La Madeleine French Country Restaurant ( the first located near SMU in Dallas).  I have even bought some on-line on several occasions. Laura pushed a recipe for their soup to me yesterday… and I had to see if it was close and it was. I made a few changes for my taste but I will present their recipe and my adaptation.
La Madeleine's Recipe for Tomato Soup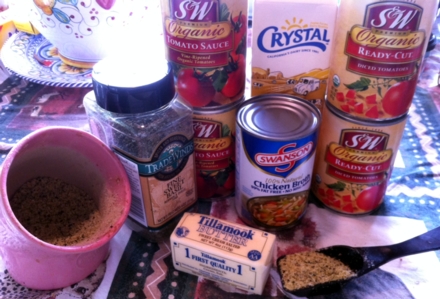 Ingredients:
2 cans diced or cut tomatoes
1 can chicken broth
2 cans tomato sauce
1 stick butter
1 tablespoon mixture of salt, pepper and garlic powder
1 cup dried and chopped sweet basil
1 cup heavy whipping cream
Process
1) use a blender to chop tomatoes… but not to the point of a puree
2) add tomatoes, tomato sauce and chicken stock into a large pan or pot under low to medium heat and stir and reduce to slightly thicken
3) add cream, butter,  seasonings, a squirt or two of lemon juice and Basil … continue stirring until completely blended and bubbling
Serve with egg salad sandwich!
Bon appetite!